Welcome to Prosper Now 777
Attention Small Business Owners, Marketing Directors, Entrepreneurs, and Speakers
What You Don't Know About the Internet Is Costing You …
Money, Market Share, And Leverage
Discover How To Quickly Establish The Strong Web Presence You Need To Grow Your Business To Previously Unattainable Heights!
How Would You Like to Start Flooding Your Business
With Wave Upon Wave of New Prospects?
How Would You Like to Surge Ahead of the Competition
and Send Your Profits Skyrocketing in No Time?
How Would You Like to Open the Door to Potentially See A
30, 60, or Even 100 Fold Increase in Impact in Just 12 Months?
Well, It's ALL Possible When You
Learn How to Harness the Power of the Internet & Web 2.0 to
Share Your Products, Services, and Stories With the World
Starting in Your Own Community!
Dear friend,
Want your business or ministry to succeed in today's competitive marketplace?
Then you need a website … and you need to be using Web 2.0, plain and simple.
In fact, if you are not doing both of these things I can safely say that without a doubt you are missing out on both prospects and profits!
It's true.
You Need An Effective Web Presence Because …
Long-gone are the days when potential customers scoured the newspaper ads or looked through the Yellow Pages to find a business.
Today's tech-savvy consumers more often than not turn to the Internet where they can simply type a few words into Google or another search engine and with a click of their mouse find the type of business they are looking for.
Will they find yours?
Well, if you are like most current small businesses the answer to that question is no. You see, statistics show that 70% of small businesses DON'T have a website.
And frankly that's a major reason why most new small businesses quickly fail in today's marketplace. You've got to go where the people are!
It Isn't Enough To Simply Have A Website
Social Media Has a Massive Influence On Search Results
Search engines have changed the game for business online. Websites that used to be ranked on the first page of results for targeted search terms are now pushed down nearly below the fold by the inclusion of additional content like maps, images, video and news content.
This "additional content" is the new prime real estate on search result pages, and the reason why it is essential companies develop a social media marketing strategy to give them a competitive edge.
Social media opens masses of opportunities to create additional prime real estate content to ensure top rankings in search engines.
Why do you need to be on the first page of search results?
Over 90% of your potential customers search online rather than in yellow pages and over 95% of them never bother to search beyond the first page of results.
If your business can't be found on the first page of results you are wasting time, money and resources, and your website is little more than an expensive brochure.
Social marketing is a way of extending your offline sales efforts and tapping into a huge market that is unlikely to find you through traditional means.
A Facebook Page or blog URL in an offline ad acts as social proof and invites potential customers to check out your community and get involved, developing a growing trust in your business.
Integrating online and offline advertising help the conversion process, and helps to build community around your business.
When you introduce potential consumers to your social profiles it gives them an opportunity to join your community now, get to know like and trust you and buy later.
To discover how the power of social media can TRANSFORM YOUR BUSINESS enter your name and email address below …
You Need to Use Web 2.0 STRATEGICALLY Because …
Web 2.0 is INTERACTIVE, 2-way communication. compared to Web 1.0 (e.g. traditional website) which offers only 1-way communication. Whether a traditional website has 5 pages, 50 pages, or 500 pages, it's still more like an online brochure, than a living, breathing organism.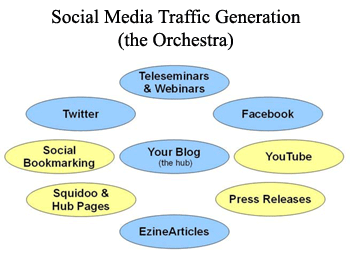 Other names for Web 2.0 are Social Marketing, Attraction Marketing, and Relationship Marketing. You see Web 2.0 is all about marketing. It's the #1 way to market your business

Based on my experience, I believe Web 2.0 is at least 100 times more powerful than Web 1.0 when it's used STRATEGICALLY. And I emphasize the word strategically. Most businesses, even if they have a Web 2.0 presence, are not using it strategically.

Web 2.0 includes such things as blogs, Facebook, YouTube, Twitter, LinkedIn, Ezinearticles, and much more.

Each of those different types of Social Media is like an instrument in an orchestra.

And your role as the business owner is to BE or to find a master conductor to play beautiful music with that orchesta. In your business, beautiful music translates to more impact, more profits, and more changed lives.
But being on Facebook, Twitter, etc and using them STRATEGICALLY for business and to generate profits are two entirely different matters. Most people using Social Media are having fun but spinning their wheels from a business standpoint.
Why use Social Marketing (Web 2.0)? That's where the people are and where they are going. And the people and businesses that get started early have a first mover's advantage. That means the sooner you get started the more likely you are to become a go-to business in your niche.
For maximum LEVERAGE nowadays, you need to use various types of social media that build relationships and drive traffic to your blog/website.
But what are the best types of social media to use?
Which ones should you start with?
And how do you get started?
How does your site get found with so many millions out there?
Then once you have traffic, how do you turn that into profit?
How do you automate the processes to save you time and money? For example, how do you set up your blog so a new article (post) automatically goes to email subscribers, Twitter, Facebook, and LinkedIn?
Who is going to help you manage this if you don't have the time or interest?
And once you have your Internet Marketing in place, how do you maintain it without spending a fortune?
Defining The Gap For YOU And YOUR Business
Where are YOU right now?
How much are you spending each year on adveritising and marketing?
What kind of fruit are seeing from that?
Do you have a web presence? If so, is it Web 1.0 or Web 2.0?
How effective is your internet marketing?
What is your annual gross revenue?
How satisfied are you with your current business growth?
Do YOU want help to use Social Marketing (Web 2.0) STRATEGICALLY?
How many hours per week are you working?
Where do YOU want to be 12 months from now?
Hom much do you want to be spending on adveritising and marketing?
What kind of fruit do you want to see from that?
What kind of web presence will you have?
What do you want your annual gross revenue to be?
How many hours per week to you want to be working?
How are you going to get there?
Who's going to help you get there?
Think BIG, Act Small
Increasing profits and improving a company's financial performance have traditionally been done in one of three ways: by increasing revenues, cutting costs or downsizing, or cooking the books. For Think Big, Act Small, author Jason Jennings and his research team evaluated more than 100,000 American companies and discovered nine which have increased revenues and profits by 10 percent or more for more than ten consecutive years – the top one-hundredth of one percent of all American companies.
These companies, Jennings learned, use another strategy to consistently increase their performance. They have a culture based on a simple precept: they think big, but they act small. They think big about ideas, about solving customer problems, making better products, and creating value. Yet they never stop behaving like start-ups. They remain humble, they treat every employee like an owner, and their managers do not mind being hands-on on the front lines.
Organizations that "think small" tend to stay small and those who "act big" tend to get into trouble.
Level 5 leaders embrace humility, strategic focus, discipline, and teamwork.
Are you interested in learning more?
If so, I urge you to enter your name and email below to discover not only how to get a business-growing website but also how to use Web 2.0 to build your customer base and profits like they were on steroids!
We currently offer these SERVICES to help you 1) Expand your reach, 2) Network with other thought leaders, 3) Connect with your target market globally, and 4) Increase your financial bottom line:

Blessings to CHOOSE to step into a LIFE of abundance!
Joseph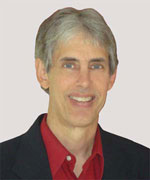 Joseph Peck, M.D.
"Blessed to be a blessing"
Dr. Breakthrough, THE CONNECTOR, and The Journal Guy
Founder and Executive Director of Webinars777
Breakthrough Life Coach helping your DREAMS come true
Creative Marketing and Communication Specialist
Empower 2000, Inc.
Empowering and Connecting a New Generation of Godly THOUGHT LEADERS
POWER NETWORKING God's Army Around the World
Changing Lives to Disciple Nations
Connect – BE Blessed To Be A Blessing
LinkedIn: http://linkedin.com/in/thejournalguy
Facebook: http://facebook.com/thejournalguy
Twitter: http://twitter.com/thejournalguy
YouTube: http://www.youtube.com/MastersmindMarketing
P.S. Sign up TODAY for my free E-course "30 Days To Breakthrough!" God wants to transform your life NOW!
P.S.S. Spiritual Journaling will transform your life!
UNCOMMON Journaling is the key
to unlock YOUR dreams!